Women's State Pension: 'It Is Like You've Lived One Big Lie'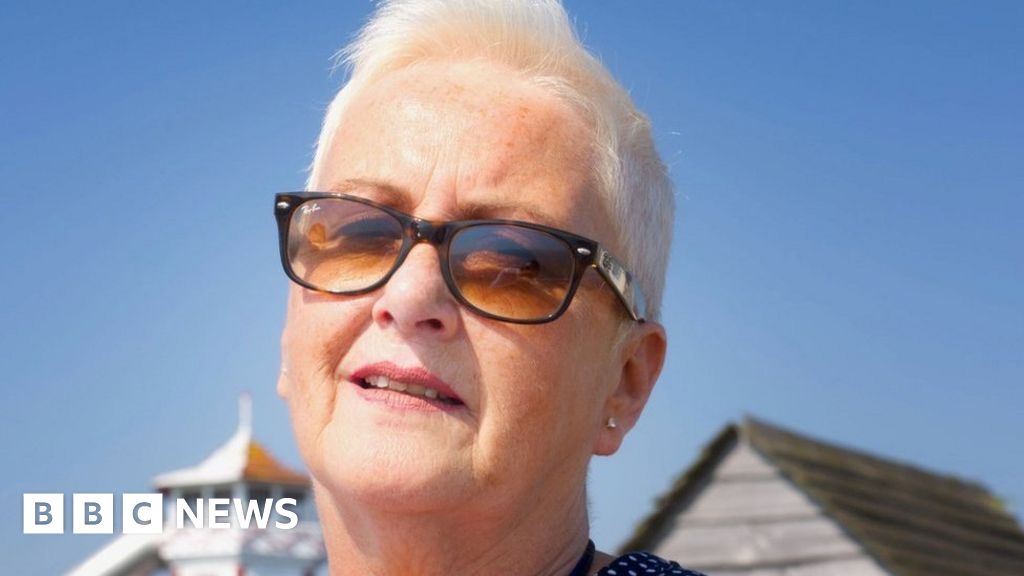 By Laurence Cawley
BBC News, East
Both men and women can now claim their state pension at the age of 66. But women born in the 1950s had long expected to retire at the age of 60. Four women from the Essex town of Clacton explain how the changes left them shocked and disrupted their lives.
'I couldn't believe it'
Just two months before she turned 60, Maureen Smith, now 66, learned she would not get her state pension when she thought she would.
"I found out from my sister-in-law's mum that I wasn't getting a pension until, at that time, I was 65.
"I couldn't believe it," she says. "Because from the age of 15 I had always thought I would retire at the age of 60, it was just a given. To be told you have to work an extra five years was a shock.
"At one stage in my life I was nursing and if I had carried that on into my latter years how useful would I have been on the ward?
"I mean, if your own health is in demise then you may not be able to do half of the things you could do in your 20s.
"I thought it was quite a joke when the government told us we should retrain," she says. "I applied a few times for apprenticeships. One as an electrician and one for a bricklayer. I got a nil points'', they didn't want me at all."
Mrs Smith says she considers herself "one of the lucky ones" because she has a private pension and her husband is still working.
"But we've come across women who are actually sleeping in their cars and going into their work place, such as care homes, to shower before they start their duties," she says.
"They will eat at work and return to their cars at night time because they cannot afford to have accommodation.
"These are women who should have retired, who have in some cases been widowed or lost their homes.
"These are the women that I am fighting for."
'I was looking forward to it'
Sue Marriott, 67, tells a similar story of dashed expectations.
She received a letter in February 2012 telling her she would not be eligible for her pension as planned.
"I was due to retire in April 2014 - so just two years before I had expected to retire.
"I had been looking forward to retiring ever since I was 14 years old when my Nan told me about pensions," she says. "I thought to myself if I work hard and do everything you're asked to do and pay your taxes, then when I'm 60 I will get my pension.
"I was looking forward to it as a time when I would get to do things I wanted to do.
"It is really hard to get work as you get older. I had lots of energy until I was about 62.
"But it can be like a cliff edge, when all of a sudden you start feeling really, really tired and you start suffering more with illness and aches and pains.
"To not feel well now pretty much all of the time is a shock to the system. And I don't think I could possibly be working now - I just don't feel well enough."
Another frustration, she says, is a lack of awareness she feels many women have about their pension prospects.
"A terrible lot of women, even those approaching retirement age, do not know," she says. "There are women who have had divorce judgements made based on a retirement age of 60 who are losing out.
"There are still women out there who do not realise they will not be retiring at 60."
The finding brings the prospect of compensation closer for thousands of women born in the 1950s who have long been furious about the issue.
However, the ombudsman has no power to refund "lost" pensions or recommend anyone receives their state pension any earlier than the current law allows.
The Department for Work and Pensions says its actions have been upheld by both the High Court and Court of Appeal, and the Supreme Court had refused the claimants permission to appeal.
It claims making the state pension age the same for men and women was a "move towards gender equality".
The rising state pension age
From 1948, for more than 60 years men received their state pension at 65 and women at the age of 60.
But over the years it was argued that the difference was unfair, as women had a longer life expectancy than men.
So under the 1995 Pensions Act a timetable was drawn up to equalise the age at which men and women could draw their state pension.
The plan was to raise the qualifying age for women to 65 and to phase in that change from 2010 to 2020.
But the coalition government of 2010 decided to accelerate that timetable, arguing that the state pension was becoming unaffordable.
Under the 2011 Pensions Act the new qualifying age of 65 for women was brought forward to 2018.
The qualifying age for men and women was raised to 66 in 2020.
Those changes were expected to save £30bn.
'I don't know how long I've got to work for'
Tracey Cox, 57, works in health and social care.
Before 2014, she would have had three years to work until she could claim a state pension.
"It is harder because you think three years is not very long and it would have been great to retire in three years," she says. "But I don't even know what the retirement age is because it keeps changing.
"So I really don't know when I am going to retire or how long I've got to work for.
"That is quite concerning really because you can't plan for the future.
"The work I do is very rewarding but it is challenging as well. I don't know how things are going to pan out.
"I think I probably will struggle because I've not been able to build up my savings in a pension for very long and the state pension is not very much at all."
Although she understands why the retirement age has been increased, she fears that constant changes will lead many to lose faith in the system.
"They need to make a decision as to when people can retire so that people can plan for it," she says.
"But it keeps changing all the time.
"When you're young you don't even think about your pension because it feels like you've got a long time to go. That's what I thought when I was younger but it catches up with you very fast."
' I gave up work and I thought it would be fine'
When their father died from cancer, Tina Sylvester's two daughters decided they wanted to become nurses to help others.
It was 2011, and Mrs Sylvester felt she could support them by looking after their children.
"They had other careers and they wanted to go into nursing," she says. "I thought, yes, I'll be getting my pension in a couple of years' time.
"I gave up work in 2011 and I had savings so I thought it would be fine.
"Then in 2012 I got the letter saying you're not going to get your pension at 60.
"It was a real big shock to me because that was what I was planning for and had been since I was 15.
"It was awful. When I was 60 I went back to work - in a playgroup first, and in a cafe."
She feels the change in the pension age has unfairly discriminated against women.
"It is surprising how difficult it is to be listened to," she says. "A lot of people, whether it is because of our age, seem to think we won't be able to change anything.
"You do feel like the weaker sex. I'm sure if it was all men demonstrating about their pensions I'm sure people would take note of them.
"It is like one big lie that you've lived.
"Everybody wants equality - but it was not equality because men now have to work an extra year and we have to work an extra six years.
"If they wanted real equality, why didn't they bring the retirement age up for us, and down for men, to 63?
"That wouldn't have hurt as much."