US Congress Closing In On Debt Ceiling Deal - Reports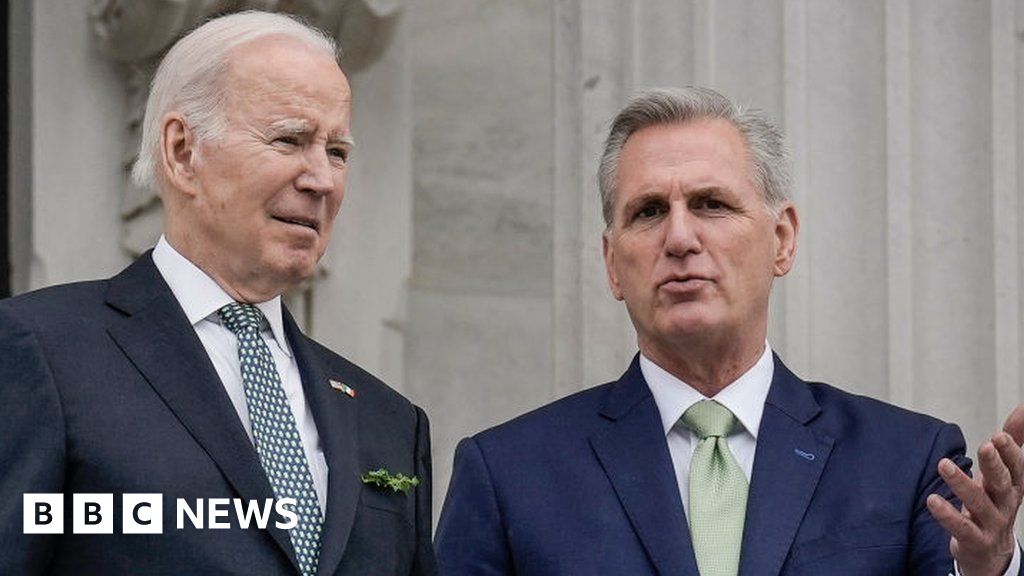 US President Joe Biden and top Republican Kevin McCarthy appear to be inching closer to a deal over the US debt ceiling, even as Congress breaks up for a holiday weekend.
A tentative deal would increase the ceiling for two years, capping federal spending except for the military and veterans, US media reported.
Investor worries have increased, despite earlier assurances that talks were making progress.
The deal is not yet final.
The US Treasury has warned that the country will not have enough money to pay all of its bills as soon as 1 June.
Analysts say if the US fails to honour obligations it could have severe economic consequences.
'Two-year deal'
Details outlined by Reuters and the New York Times would allow Republicans to say they cut spending, while Democrats could say they defended domestic programmes.
A US official told the news agency the White House was considering scaling back an increase of the Internal Revenue Service to hire more auditors, which was intended to target wealthy Americans.
The Times reported negotiators were closing in on a deal that would raise the debt limit for two years while imposing strict caps on spending besides military or veterans for the same period.
Republicans are seeking spending cuts to government programmes, in exchange for raising the $31.4tn (£25tn) cap on government borrowing.
Mr Biden said the two sides had different visions for how to get America's "fiscal house in order", but added that all leaders involved agreed that default was not an option.
Mr McCarthy, who leads Republicans in the House and has been the most high-profile public face of the talks for his party, earlier said Democrats and Republicans had worked past midnight on Wednesday and would continue to negotiate.
"There's a couple of issues still hanging out there that we've got to get done," he said. "We're gonna work 24/7 to try to make that happen."
Another key Republican said he believed a deal to raise the nation's debt-ceiling deal was "likely" by Friday afternoon.
"We are inching closer to a deal. I think it's some of the finer points they are working on right now," Rep Kevin Hern told Reuters. "You are likely to see a deal by tomorrow afternoon."
"Neither side is going to get exactly what they want," White House press secretary Karine Jean-Pierre said, while adding that the latest negotiations had been "productive".
The S&P 500 and the Nasdaq were trading higher at midday on Thursday, lifted by positive updates on earnings from some companies, while the Dow Jones Industrial Average was down about 0.6%.
That followed several days of declines.
Fitch Ratings, one of the big three credit ratings agencies, on Wednesday said it had put the US on "negative watch" - the first step toward lowering the country's credit rating.
It cited "increased political partisanship" and weak governance compared to other countries that hold its top rating.
"The brinkmanship over the debt ceiling, failure of the US authorities to meaningfully tackle medium-term fiscal challenges that will lead to rising budget deficits, and a growing debt burden signal downside risks to US creditworthiness," the company said.
Mr McCarthy has promised to give lawmakers 72 hours to review the bill, and at least 24 hours' notice if they have to return to Washington early. If a deal is reached this week, a vote could happen early next week.
There is little wiggle room for objections to be raised, as the Senate would also have to vote on the bill, which would then go to the White House for signing.
Lawmakers could also temporarily lift the debt cap to give the talks more time.