Liz Truss Defends Plan To Lift Cap On Bankers Bonuses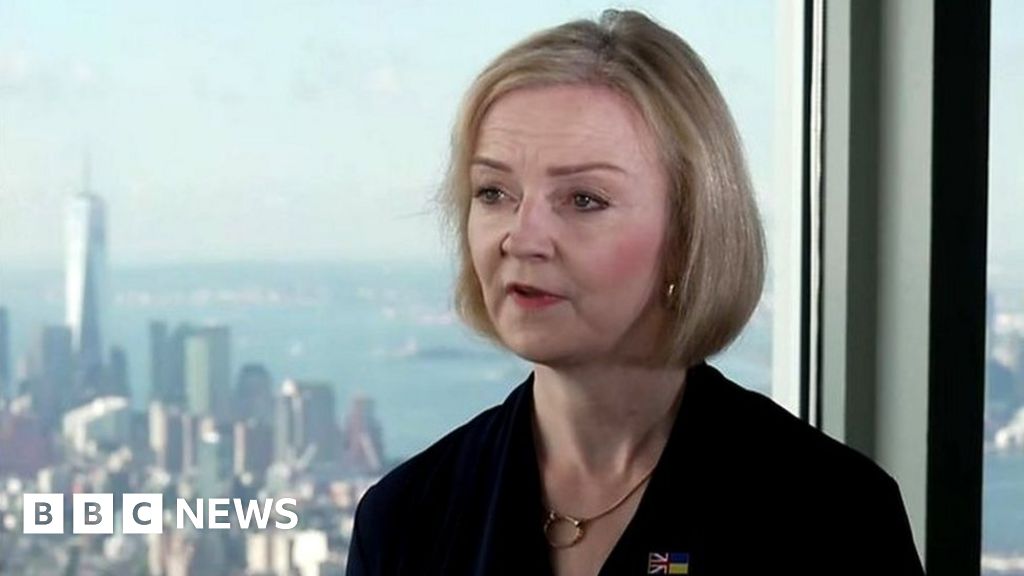 Prime Minister Liz Truss has said she is prepared to take "difficult decisions" such as removing a cap on bankers' bonuses to boost the economy.
In an interview with the BBC, Ms Truss said that spurring economic growth may mean doing unpopular things.
Her government is considering removing a cap on bankers' bonuses as part of a post-Brexit shake-up of City rules.
Speaking in New York ahead of a meeting with President Joe Biden, the PM said she was about "delivering for people".
BBC Political Editor Chris Mason asked Ms Truss whether she was happy to see bankers getting bigger bonuses and for the rich to get richer.
"What I want to see is a growing economy," Ms Truss said.
"If that means taking difficult decisions which are going to help Britain become more competitive, help Britain become more attractive, help more investment flow into our country, yes, I'm absolutely prepared to make those decisions."
Labour's shadow chief secretary to the Treasury, Pat McFadden, said there was nothing difficult about lifting the cap on bankers' bonuses.
"This is a bizarre move that will do nothing to support growth, and comes straight from the tired Tory playbook on trickle-down economics which haven't worked for them over the last decade," the Labour MP said.
President Biden tweeted earlier that he was "sick and tired" of the theory that cutting taxes for business and the wealthy would see the benefits "trickle down" into the pockets of poorer workers.
Although apparently not intended as a swipe at Ms Truss, the comment underlines the political differences between the two leaders ahead of their meeting.
The prime minister's official spokesman said it was "ludicrous" to suggest President Biden was referring to Ms Truss in the tweet.
He said the world's democracies were "not prescriptive" in how they achieve economic growth.
The UK government had previously promised a post-Brexit trade deal with the US by 2022.
There has been lots of talk of a new era in the last few weeks, for obvious reasons.
Now, with political argument returning, it is language the prime minister is embracing, about her premiership and the challenges she - we - face.
'We are entering a new era. It is a more insecure era,' she told me.
Insecure abroad, insecure at home. The core of her political strategy is turbo-charging economic growth — and, for now at least, being willing to embrace the unpopular.
"Difficult decisions" as she put it - such as allowing bankers to get bigger bonuses.
There are two big questions for her: will it work, and will people like it?
She doesn't have long to find out the answers, with a general election two-ish years away.
In her Chris Mason interview, Ms Truss said she wanted to forge closer ties with the UK's allies.
"It is a more insecure era. We face an increasingly aggressive Russia, an assertive China. We need to work more closely with our allies, and we also need to get the British economy growing so that we have that security for all of our citizens."
In a meeting with French President Emmanuel Macron in New York, Ms Truss agreed to enhance UK-France co-operation on energy to cut costs for households.
In Downing Street's account of the meeting, there was no mention of contentious issues that have strained Anglo-French relations since the UK left the European Union.
Neither the unauthorised migrant crossings of the English Channel, nor the post-Brexit trade arrangements for Northern Ireland were discussed, in a meeting described as "constructive" by Downing Street.
Mr Macron and Ms Truss were meeting face-to-face for the first time, weeks after the she questioned whether the French President was a friend or foe.
"I now believe in proof, in results," Mr Macron said. "There is a will to re-engage, to move on and to show that we are allies and friends in a complex world."
Speaking earlier, Ms Truss said "we are facing incredibly tough economic times" after Russia's invasion of Ukraine and the aftershocks of the Covid-19 pandemic "pushed up energy prices".
She said higher energy bills were "a price worth paying" for the UK's long-term security.
Under Ms Truss's plans, energy bills will be frozen at that level for the next two years.
The scheme is likely to be paid for by increased government borrowing, but the full details will be announced on Friday as part of a mini-Budget.
On Wednesday, Ms Truss will use her speech to the United Nations General Assembly to rally support for Ukraine and highlight the threat from authoritarian states such as Russia and China.
The PM will argue that democratic nations should prioritise economic growth and security to win the new era of strategic competition.
Ms Truss will also reiterate her commitment to protecting the UK and its allies, including by increasing defence spending to 3% of GDP by 2030.
"Just as we are building a plan for growth at home, we are also developing a new blueprint for our engagement with the world," the PM is expected to say.
"We will build resilience and collective security - because they are vital for freedom and democracy."