Covid: Travel Firms Angry Over France Quarantine Rule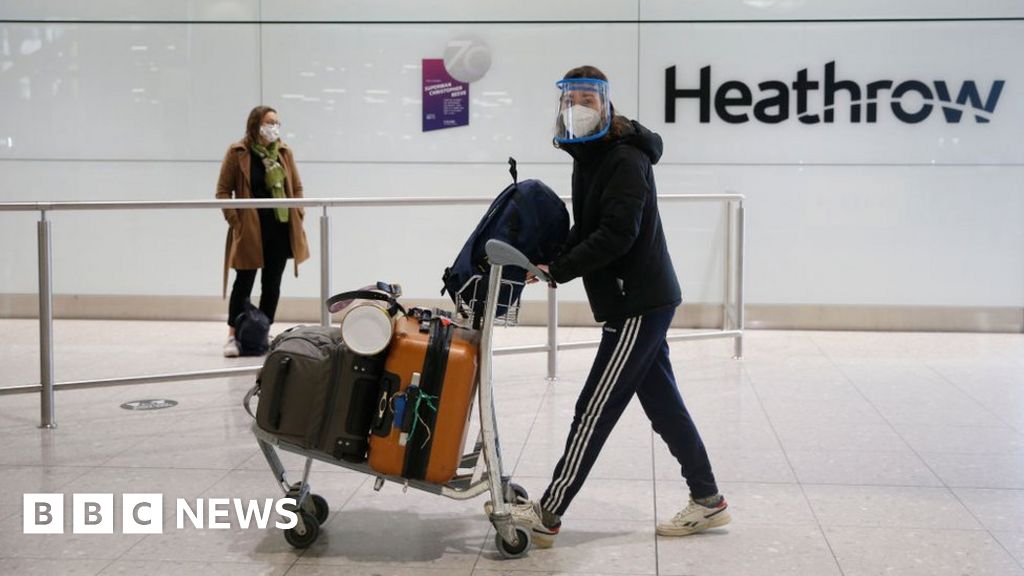 By Joseph Lee
BBC News
Travellers and tourism groups have criticised the ongoing need for people coming to England, Scotland and Wales from France to quarantine for 10 days.
Quarantine rules are due to end for fully vaccinated people arriving from other amber list countries on Monday.
France remains on the amber list, but there is concern over the level of Beta variant in the country as it may evade vaccine protection.
An industry group said the decision "squashed" consumer confidence.
Gemma Antrobus, from the Association of Independent Tour Operators, estimated that hundreds of thousands of travellers would be affected by the change.
She told the BBC the industry was in shock and the decision "proves that something can come out of nowhere at the very last minute".
Each UK nation sets its own travel rules. Wales said it would be following the change set by England, and on Saturday evening Scotland announced it was doing the same. Northern Ireland is yet to announce its intention.
The Beta variant - first identified in South Africa - accounts for about 10% of new infections in France. But that includes the Indian Ocean territories of Reunion and Mayotte, where the variant is near-universal.
The more infectious Delta variant - first identified in India - accounts for almost all new cases in the UK.
Health Secretary Sajid Javid said the government had always been clear that it would take "rapid action" to stop the spread of Covid.
But Willie Walsh, the director-general of the International Air Transport Association, said the UK is "destroying its own travel sector and the thousands of jobs that rely on it" through constantly changing its travel rules.
And Easyjet chief Johan Lundgren said the decision "pulls the rug" from travellers already in France and shows the traffic light system for pandemic travel is "falling apart".
Travellers told the BBC they were frustrated by the inconsistent rules, while some said it was making it hard to visit family members abroad.
James Miles from West Sussex said the quarantine requirement had put his plan to visit his girlfriend for the first time since 1 January in jeopardy.
"This is really affecting people's lives," he said.
"Seven months is a long time not to see your partner. I can't even see the light at the end of the tunnel. Where do we go from here?"
Georgina Thomas, a nurse from Buckinghamshire who has been visiting her parents, told the PA news agency: "I'm frustrated with the inconsistent approach the government are taking, it doesn't all appear logical.
"If a quarantine is necessary then so be it, but I'm confident that my risk will be higher when I return to the UK."
The government announcement means that anyone who has been in France in the previous 10 days will need to quarantine on arrival to England in their own accommodation and will need a day two and day eight test, regardless of their vaccination status.
This includes any fully vaccinated individual who transits through France from either a green or another amber country.
But ministers indicated that Eurostar passengers on services travelling through France would not need to quarantine if their train did not stop in the country.
Existing amber list exemptions for key workers such as hauliers will remain in place.
French MEP Veronique Trillet-Lenoir told BBC Radio 4's Today programme that it was "difficult to understand" the UK rules, as the Beta variant is "not present at all" in mainland France, with France's cases mainly being found in its overseas territories.
There has been no official response from the French government yet, but BBC Paris correspondent Hugh Schofield said it would be pushing for an explanation from its London counterpart for the toughened policy.
France has announced it will tighten its rules for UK travellers who are not fully vaccinated, requiring a negative test in the 24 hours before arrival from Sunday, rather than the 48 hours allowed previously.
Anyone fully vaccinated with a jab from Pfizer/BioNTech, Moderna, AstraZeneca or Johnson & Johnson from any country will be exempt from providing a negative test, however.
Prof John Edmunds, an epidemiologist from the London School of Hygiene and Tropical Medicine and a government adviser on the Sage committee, said the Beta variant was at low levels in the UK but, as immunity from vaccines increases, "conditions are right" for it to gain an advantage.
He told the Today programme that the Beta variant is probably less infectious than the dominant Delta variant, but it appears to be better able to evade the immune response from vaccines - particularly from the Oxford-AstraZeneca vaccine.
The UK is currently facing a "long and drawn out" wave of infections from the Delta variant, he said, as it will not be brought down by lockdowns as previous peaks were.
He said cases are on course to hit 100,000 a day in about two weeks, although school closures over the summer may help to bring down the surge or cause it to level off. But high levels of infection were likely throughout the rest of the summer and autumn, he said.
Chairman of the Commons health select committee Jeremy Hunt warned that Covid restrictions may have to be reintroduced if cases are still rising when schools return in September. He also said the "warning light on the NHS dashboard... is flashing red" with hospital admissions expected to rise to 10,000 by the end of August
The Trades Union Congress has called on the government to "fix sick pay" amid rising numbers of people being asked to self-isolate. Deputy general secretary Paul Nowak said many people cannot afford the time off work
Bulgaria has announced a ban on UK travellers entering the country amid rising cases