Can Mining Save Cornwall's Economy?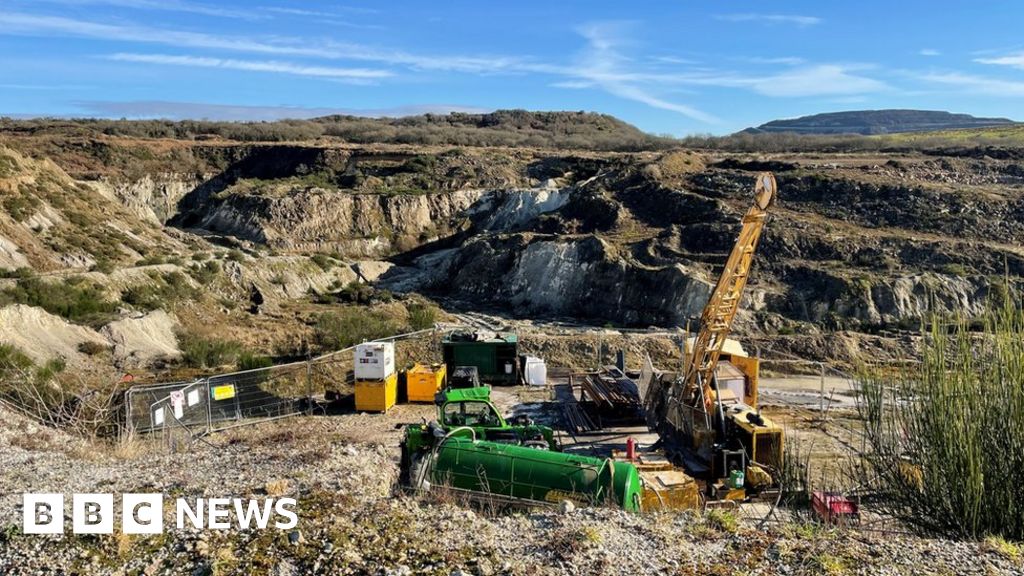 By Simon Jack
Business editor
At an industrial site in central Cornwall there are a couple of boreholes, each just 12cm across but driven down a kilometre into the rock.
They are pumping up water containing what may turn out to be a magic ingredient when it comes to Cornwall's future.
It's lithium, the element that goes into making batteries, for electric cars amongst other things.
"It's going to be absolutely crucial for the green industrial revolution and we think we have decent resources of it," says Lucy Crane, from the company Cornish Lithium.
Two hundred years ago, this part of Cornwall was dubbed the richest square mile on earth thanks to its copper mines, says Lucy.
And these modern day prospectors are hoping that lithium represents a new green "gold in them there hills". But it will take a couple of years before Cornish Lithium's pilot projects can establish just how much is down there.
In the meantime, with the leaders of seven of the world's richest countries here, mapping out a recovery from the biggest global health and economic shock in over a century, Cornwall itself is at an economic crossroads, more acute even than for the rest of the UK.
Cornwall's economic past was built on centuries of mining and fishing wealth, and the seeds of new industries are being sown, but its lifeblood now is tourism.
But it was also the biggest recipient of European Union (EU) development money of any area in the UK and home to coastal communities that rely on EU customers for their livelihoods. So Cornwall is now facing huge post-Brexit challenges.
Mussels to Brussels?
Few sectors were hit harder by the impact of Brexit than fishing - in particular shellfish. The UK, in common with other non-EU countries, is now banned from exporting live unpurified mussels, scallops, oysters and clams into the EU - where 90% of them are bought and eaten.
Getting his mussels to Brussels has proved nigh on impossible for Martin Laity of Sailor's Creek Shellfish, and purifying them here in the UK pre-export terminally affects their shelf life.
"The mussels wouldn't survive the purification and the transit, if I was to send that to France now, 90% of them would be dead on arrival," says Martin.
The end of the Brexit transition period was catastrophic for Martin. His business disappeared on day one, he says. And while the government might be touting trade deals with countries like Australia or Canada, he can't imagine them replacing his lost markets, not least because they import very little shellfish.
"Also you have got to look at the sustainability angle - our oyster boats work with sail power and when you are told to sell your stuff 9,000 miles around the world, it goes against the grain of what you are trying to achieve," he says.
He also warns that a decline in fishing could undermine one of Cornwall's strongest attractions.
"The entire reason we have a tourism industry is because people like the ambience of what's happening - busy people working hard in a port - it attracts people from around the world to see that. They want to see character and our industry is character"
Holiday hoops
This summer Cornwall will attract more tourists than usual as disruption to travel takes the shine off holidays abroad.
And the view from Cornwall's number one tourist attraction is an optimistic one.
The Eden Project offers a glimpse of life from far-flung corners of the world, but it is nestled among the sheer walls of an old clay mine - another reminder of the region's foundations.
The site's interim chief executive David Harland hopes visitors will remember how much easier it is to holiday in the UK, without "all the hoops you have to jump through", and keep coming back.
But even then the region will still need support, he says.
"We are standing here in Cornwall in one of the few areas of economic deprivation left in England and what we are looking for right now is a roadmap towards genuine levelling up - to find ways to make sure the wealth is genuinely spread across the country," he says.
Handouts
The EU used to provide grants worth up to £100m a year over the last 20 years - including support for the Eden project. The government has promised that will be replaced by domestic grants from a new Shared Prosperity Fund - a pot of money available to all UK areas to which the chancellor has so far committed only £220m in total.
Tim Dwelly, former leader of the Labour Group on Cornwall Council fears that means his region will receive just a fraction of the money it used to receive.
"It is genuinely shocking to think that government expects Cornwall to gear up for these huge challenges with about 5% of the budget we need. This is not levelling up, it's levelling down," he says.
It means more hope than ever is being invested in new industries like lithium mining, and geothermal energy too. These industries have the potential to kill two economic birds with one stone - decarbonisation and levelling up, while reducing people's dependency on a sector that is both fickle and seasonal.
"One in five jobs in Cornwall depends on tourism and we need to change that," says Conservative MP for Truro and Falmouth, Cherilyn Mackrory. "We want a different Cornwall that isn't reliant on handouts."