Aer Lingus Stops Most Belfast City Airport Flights After Stobart Air Collapse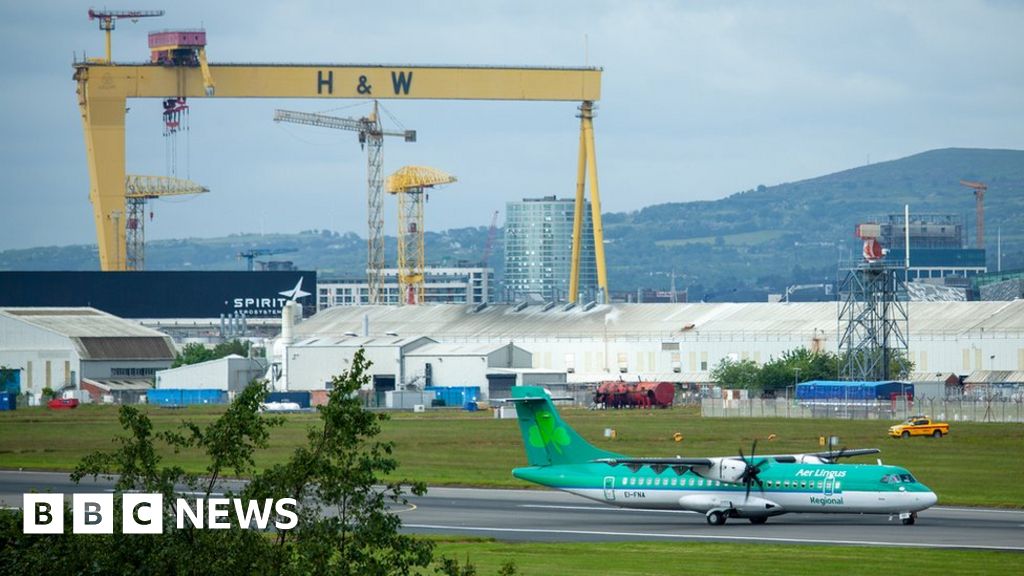 Aer Lingus is stopping flights from Belfast City Airport to several UK destinations but is offering some passengers a replacement flight.
It comes after Stobart Air, which operates Aer Lingus' regional services, including those from Belfast, failed to find a buyer and is being liquidated.
Flights to Leeds Bradford, Edinburgh, Exeter, Manchester, East Midlands and Birmingham have been cancelled.
Flights from Belfast City Airport to London Heathrow will not be affected.
But a planned route between the airport and Newquay - due to start in late June - will be affected.
Aer Lingus said that all of its customers affected by the cancellations were being offered details of an alternative flight "where feasible" and also have the option of a full refund.
The company said that of the 12 routes affected by the decision Aer Lingus will operate five routes and for at least the next week and BA City Flyer would operate two.
Alternative services for the outstanding routes are still being determined, it said.
"Teams across Aer Lingus have been working through the night progressing alternative flying operations from tomorrow to provide a service for Aer Lingus Regional customers," said the airline.
Stobart Air also operated a number of routes within the Republic of Ireland for Aer Lingus and flights on those routes have all been cancelled.
Aer Lingus was due to replace Stobart Air with a new regional operator next year but it is not clear how quickly it could now start to operate the services.
Emerald Airlines was being lined up to take over the contract.
'Shameful'
Before Aer Lingus announced the replacement schedule, BBC News NI spoke to some of those affected.
John Bird, from Newcastle, County Down, was in England to attend a family funeral and was due to return to Northern Ireland from Birmingham on Saturday afternoon.
He said he received a text from Aer Lingus at 08:45 BST, saying the flight was cancelled.
"We have now had to book new flights tomorrow from Manchester at an extra cost of £225 plus my son now needs to drive two hours to get us to Manchester," he said.
"I then need to get a taxi from Belfast International Airport to Belfast City Airport at a cost of £40 to collect my car on the long-term car park.
"I find this situation disgraceful with no help from either airline."
Mr Bird said he could not get through to the airline and added that it was "shameful" how passengers had been treated.
Ollie Richards is due to fly from Exeter to Belfast on Wednesday, with his wife Janice, who is from Newtownards, County Down, and their five-month-old baby.
It is supposed to be the first time their daughter will meet her family in Northern Ireland.
He said he found out about the flight cancellations through the media.
"One word: gutted, really, as I'm sure her family will be in Newtownards who we were going to see to show off our little one, who is five months and hasn't been over there yet," he told BBC News NI.
"Family members haven't seen her yet - there will be absolute despair, especially among the grandparents who aren't able to get over to us [in Devon].
"I'm sure they'll be distraught."
Emmet McCracken and Tiffany Logue were due to travel from Exeter to Belfast City Airport but were sent a text on Saturday morning to say the flight had been cancelled.
"We had to leave our hire car back to Exeter Airport and then get a bus to the train station and now get a train to London to get a flight from London to Belfast tomorrow, back to the City Airport because our car's there," Ms Logue said.
Mr McCracken added: "I think we've spent about £400 already at this point just on flight changes and train and all sorts of things, a bit of running about and obviously a bit of a stressful morning.
"I actually have a training session tomorrow for part of the Irish MMA squad I'll have to miss, so it's been a real inconvenience."
Another passenger, Christopher from England, who has been in Northern Ireland for a week, arrived at Belfast City Airport on Saturday to be told Stobart Air was no longer flying.
"I have to book another flight back to England but I have to fly to London which is 100 miles away from my home, so it's a big inconvenience," he said.
"I'm distressed really, because I've turned up here, I've got no financial means of staying here or getting back to England, so I'm having to rely on people to send money through to me to get home."
In a statement, Aer Lingus said it was informed of the decision late on Friday evening.
The airline apologised to its customers "for the inconvenience caused by the cancellation at such short notice".
"Aer Lingus is now communicating to customers to advise them of their options for refund or re-booking," said the statement.
Belfast City Airport said it was informed by Aer Lingus that the operator had ceased operations on Saturday morning.
Its chief executive Brian Ambrose said the airport's "first priority" was to work with Aer Lingus to "find a solution and get planes back in the air to serve these popular destinations".
Belfast City Airport urged passengers booked on to the cancelled flights not to travel to the airport and instead to contact Aer Lingus.
Stobart Air staff received an email from the company's managing director on Friday night informing them of the situation.
It outlined that Ettyl Limited, a company based in the Isle of Man, had agreed terms with Esken, the owners of Stobart Air, to buy the company.
However, according to the email, Esken discovered on Thursday evening Ettyl Limited was unable to acquire the company "on the original terms" or "obtain an alternative funding package within the required timescale".
The email stated that Stobart Air was now in the process of appointing a liquidator.
Esken is to retain ownership of Carlisle Lake District Airport, which it also owns, but has said it will "actively explore strategic options for the use of this asset".
The business said it would hold discussions with stakeholders "including potential alternative commercial opportunities for the airport".
Please include a contact number if you are willing to speak to a BBC journalist. You can also get in touch in the following ways:
If you are reading this page and can't see the form you will need to visit the mobile version of the BBC website to submit your question or comment or you can email us at HaveYourSay@bbc.co.uk. Please include your name, age and location with any submission.