Credit Suisse: A Deep Dive Into The Swiss Bank's Struggles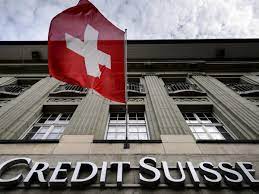 Subtitle: The Road to Recovery is Fraught with Challenges for the Embattled Swiss Giant
By: Brett Hurll
March 15, 2023
It has been a tumultuous couple of years for Credit Suisse, the Swiss banking giant that once stood tall as a symbol of stability in the global financial industry. However, a series of high-profile scandals, regulatory crackdowns, and financial missteps have left the bank grappling with its future. In this analysis, we will delve into the issues surrounding Credit Suisse and discuss the road to recovery that lies ahead.
The Archegos Capital Meltdown
The collapse of Archegos Capital Management in 2021 was one of the most significant setbacks for Credit Suisse in recent memory. The bank's losses from the collapse amounted to a staggering $5.5 billion, making it the hardest-hit institution among those exposed to Archegos. As a result, Credit Suisse has been reevaluating its risk management practices and looking for ways to prevent similar incidents in the future.
Greensill Capital Debacle
The fall of UK-based supply chain finance company Greensill Capital in March 2021 was another blow to Credit Suisse's reputation. The bank was forced to freeze $10 billion of its supply chain finance funds that were tied to Greensill, leading to substantial losses and increased scrutiny from regulators. The debacle raised questions about Credit Suisse's due diligence processes and its ability to manage risks effectively.
Spygate Scandal and Management Shake-up
In 2019, Credit Suisse was rocked by a corporate espionage scandal when it was revealed that the bank had hired private investigators to track the movements of a former executive. The incident led to the resignation of CEO Tidjane Thiam and several other high-ranking executives. This "Spygate" scandal dealt a severe blow to the bank's image and led to increased pressure for a management overhaul.
Regulatory Pressure and Compliance Issues
In the aftermath of these high-profile incidents, Credit Suisse has faced intensified scrutiny from regulatory authorities. The Swiss Financial Market Supervisory Authority (FINMA) has placed the bank under enhanced supervision and demanded improvements in its risk management and corporate governance practices. Credit Suisse has also been subjected to investigations by the US Department of Justice and the Securities and Exchange Commission.
The Path to Recovery
Despite the myriad challenges, Credit Suisse has not stood still. The bank has taken several steps to address its issues and chart a path to recovery. These include:
Management Overhaul: Credit Suisse has replaced several senior executives, including the appointment of Thomas Gottstein as CEO in February 2020. These changes signal a commitment to rebuilding trust and implementing robust risk management practices.
Risk Management Reforms: The bank has pledged to improve its risk management processes, including more robust due diligence and enhanced risk monitoring.
Portfolio Rebalancing: Credit Suisse has been offloading some of its riskier assets, aiming to reduce exposure to potential financial shocks.
Cost-cutting Measures: The bank has initiated a program to cut costs and streamline operations, targeting a reduction in its operating expenses by 10% by 2023.
Conclusion
The road to recovery for Credit Suisse will not be an easy one, as the bank faces significant challenges in rebuilding its reputation, addressing regulatory scrutiny, and implementing effective risk management practices. However, the steps taken so far indicate that the Swiss giant is determined to learn from its mistakes and emerge stronger. The financial world will be watching closely as Credit Suisse attempts to chart a course towards stability and growth in the coming years.