And The Insurance Publication Of The Year Is…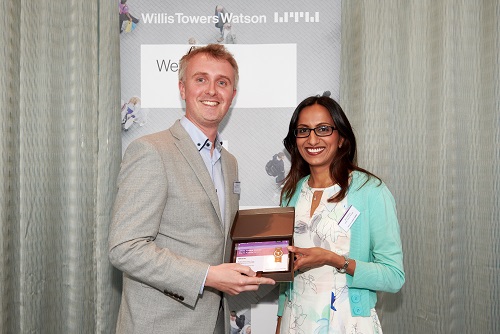 Not once, but twice.
For the second year in a row Insurance Business UK has won the prestigious (Re)Insurance and Risk Publication of the Year Award at the Willis Towers Watson Media Awards.
The awards, which have been running for nearly 15 years, were created to honour excellence in business journalism, particularly in the fields of (re)insurance and risk, human resources and benefits, pensions and institutional investment.
Nicolas Aubert, head of Willis Towers Watson, Great Britain, said that he was particularly impressed with the calibre of entries to the awards this year.
"Congratulations to all of our winners and highly commended journalists," Aubert said.
"These awards allow us to celebrate the business media who play such a vital role in our industry. Each year the field gets increasingly competitive and this year's entries were no different – high-quality, diverse and engaging – our judges were highly impressed."
Managing editor Paul Lucas (pictured above with Bina Mistry, head of corporate consulting in the retirement business at Willis Towers Watson) attended the 14th annual awards that were held on Wednesday night in London and accepted the award on behalf of Insurance Business UK.
"To have won the 'Publication of the Year' title in back-to-back years is a fantastic achievement and full credit to our incredibly hardworking journalists," Lucas said. 
"We like to think we offer the best of both worlds - utilising our global platform of writers to break news first every day, while also having a fantastic team on the ground here in the UK who are speaking to brokers and insurers day in, day out about the issues that matter to them.
"Add to that a line-up of industry-leading voices contributing monthly columns and I believe we offer something that's truly different from the pack - and people have really responded to that, as indicated by our incredible traffic numbers."
Insurance Business UK is one of six titles around the world, with Insurance Business also in the USA, Canada, Australia, New Zealand and Asia. It is part of the Key Media publishing company which has offices in London, Denver, Toronto, Sydney, Auckland, Singapore, Manila, Bangalore and Seoul.
Lucas said that because the Publication of Year category is voted for by the industry, the win was particularly satisfying.
"The fact that this award is based on a public vote makes it all the more special," he said. "For our readers to visit our website every day for the latest news and interviews is one thing, but to take the time out of their busy day to vote for us is truly special. I think we have a fantastic relationship with our readership and I can't thank them enough for casting their votes two years in a row."
Now all that's left is to get back to work to keep delivering the stories that the readers love to see.